Bellu Cemetery: Bucharest's Père Lachaise
I don't know about you, but when I travel to a new destination, I make it a point to visit the most popular local market and THE place to be… buried in the city. What can I say, I like my extremes (hectic & rest-full) blended in one fine locally-infused experience. Since I'm sure I'm not a unique specimen, I thought you might be interesting in discovering one of Bucharest's extremes, the peace-full one, and maybe pay it a visit next time you're in town. Let me introduce you to Bellu Cemetery: Bucharest's Père Lachaise or Recoleta, if Latin America is more your cup of tea. 
Why has Bellu Cemetery been THE PLACE to be buried in Bucharest for more than 160 years and why you should stop for a courtesy call? 
Bellu Cemetery: not the least, but certainly THE LAST "m'as tu vu" location in town
If you had a fabulous life and you wish for a no-less-than-fabulous afterlife, then Bellu Cemetery is the equivalent of a 5th-Avenue-real-estate investment for your final destination. Almost every Romanian worth mentioning lives here, presumably, happily ever after: misunderstood writers, lionised artists, (un)worthy politicians, ambitious scientists and many of the local aristocracy, past and present. 
The oldest body put to rest here belongs to Ienachita Vacarescu, a Wallachian boyar, highly educated who mastered more than 8 languages, the art of poetry and the way to a woman's heart. A party lover and a hopeless romantic, he passed away in 1797, leaving behind a sobbing crowd of inamoratas. Lighting a candle at his grave is paying respect to the bygone days of erudition and chivalry. 
Vacarescu just happens to be the oldest grave in the graveyard, but, by no means, the most fascinating story. The cemetery is full to the brim with intriguing lives and even more intriguing life-endings. Love stories that ended in misfortune, Sherlock Holmes mysteries, self-sacrifices in the name of science or art paint a dramatic background for our local Divine Comedy. 
An open-air museum packed with architectural gems
Bucharest is the epitome of Eclecticism in architecture and Bellu Cemetery makes no exception. If the life stories of its "residents" will soften your heart and stir your imagination, many funeral monuments will enchant your eyes and take you by surprise. A melange of Renaissance, Gothic, Art Deco, Neo-Romanian styles come together in the shape of exquisite chapels, evocative statues and impressive tombstones signed by well-known sculptors and architects such as Frederick Storck, Ion Mincu or the Florentine sculptor, Raffaello Romanelli, to name only a few.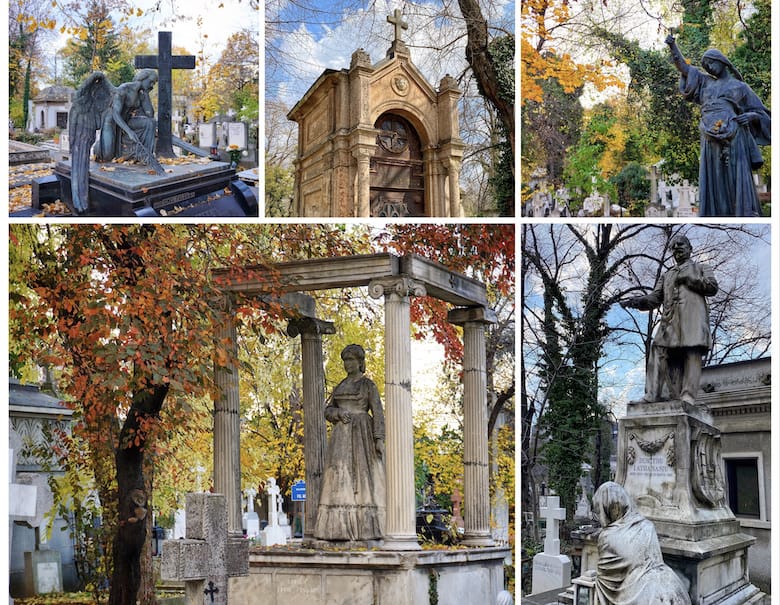 Sometimes the intriguing story of the person "at rest" pales next to the architectural masterpiece lying on top of him/her. In the words of Stella Adler : "Life beats down and crushes the soul and art reminds you that you had one".
A colourful garden for a peaceful stroll 
The best time to enjoy Bellu Cemetery's full potential is, by far, spring and autumn, when trees put on their best attire and get ready to impress. At these particular times of year, Bellu rivals pretty much any park in Bucharest. This irresistible combo of history, architecture and nature will be the perfect background for that instagram photo you've been "dying" to take (pun intended!), the best location for an impromptu picnic in "good company" (persons six feet under the ground excluded!) or just an inspiring stop for introspection before moving on to the next destination (and by next I don't mean final!). 
Now, you may ask yourselves if Bellu Cemetery is a good place to visit with kids. My straightforward answer based on my very personal experience is: "Hell yes!" They may not want to stick around for hours in a row, but a tomb hunting game is always fun and full of surprises! I always make sure I sprinkle the whole experience with many motivational stories, curious facts and mysterious cases still waiting to be solved. 
I hope I stirred your curiosity enough to give Bellu Cemetery a chance on your next visit to Bucharest. And if you do, and find yourself in need of somebody to hold your hand and walk you through the whole experience send us an email. We'll make sure to bring the candles!
 by Cezarina Pomojnicu, a taphophile in disguise