Time - travel in Cluj.
Best Things To Do, See and Eat.
If you're curious to find out what are the best things to do, see and eat in Cluj, you've come to the right place. Cluj-Napoca, or Cluj in short, is Romania's hidden Easter Egg and – lucky for all of us – it's ready to hatch! Peaking with effervescent festivals, cultural events, historical sights, hip cafes and gorgeous restaurants, Cluj is growing up, but staying young. Here, people are calmer, freer, happier. They smile more often and even when they frown they can't help but be nice. It's a "take-it-slow", "enjoy-the-food", "feel-good" type of city, that's also filled with historical substance.
If you want to discover it unspoiled, you'd better get here before everyone catches on. So, while you search for plane tickets, we'll take you on a virtual time-travel with glimpses of the best things to do, see and eat in Cluj. Now, as the locals themselves would say in their endearing and tongue-tumbling dialect: "No hai şi-om mere!", meaning, you guessed it: "Let's go!"
Table of contents
But first, coffee
Any time-traveller needs fuel. And a lot of it for that matter. So get your tank full with the energizing black liquid at Olivo Caffe. Speciality coffee might not have been a thing in the 11th century – the century in which Cluj was first officially mentioned – but it's certainly a big deal among locals today. Fact is, Olivo Caffe knows how to speak the unique dialect that makes Cluj locals so special among Romanians. Plus, they're highly fluent in Coffeeesh, the language of all coffee lovers.
So, before embarking on a centuries-old journey, settle in the present moment with your coffee roast of choice. If your hunger is also demanding its fair share, indulge with a tasty and nutritious breakfast. Then, gather your bearings 'cause we'll now begin our journey back in time.
Franciscan Temple
Stepping back in time in Cluj is not much more complicated than getting to the Museum Square. Who knew that trams could be such efficient time-travel machines? Well, only in Cluj.
At the Museum Square, you'll get a taste of the 11th century by visiting the Franciscan Temple, which is the oldest building in Cluj. Through the decades, the impressive construction served as a Catholic church, a monastery and a school, enduring violence and change with an "I'm a survivor" attitude.
First built in a Romanesque style, it transformed over the ages and, after several reconstructions, it now incorporates more Gothic and Baroque elements. Each tells a unique story and reveals a facade of the centuries that are now long behind us. If you want to know more about its troubled history, a trip to the Temple's famous Franciscan library, which holds thousands of volumes, is a great idea.
St Michael's Church
From the 11th century Franciscan Temple, let's fast-forward three full-centuries by merely crossing a few hundred meters to the Union Square. Here, St. Michael's Church will transport us to 1444, considered by most experts the year in which the edifice was erected.
Look at the church's gorgeous Gothic architecture to grasp the style of the 15th century and listen to the organ inside to get a ring of those far-gone times. Stare deeper into the building's past and you'll discover…the church's indecision in respect to faith. St Michael's Church had, throughout the years, the most different religious affiliations a Romanian church ever had: Catholic, Lutheran, Calvinist, Unitarian and then Catholic again.
Also embedded in St Michael's Church history is Matthias Corvinus' baptism. Close your eyes and imagine the ceremony that marked the event. Now that's one for the books.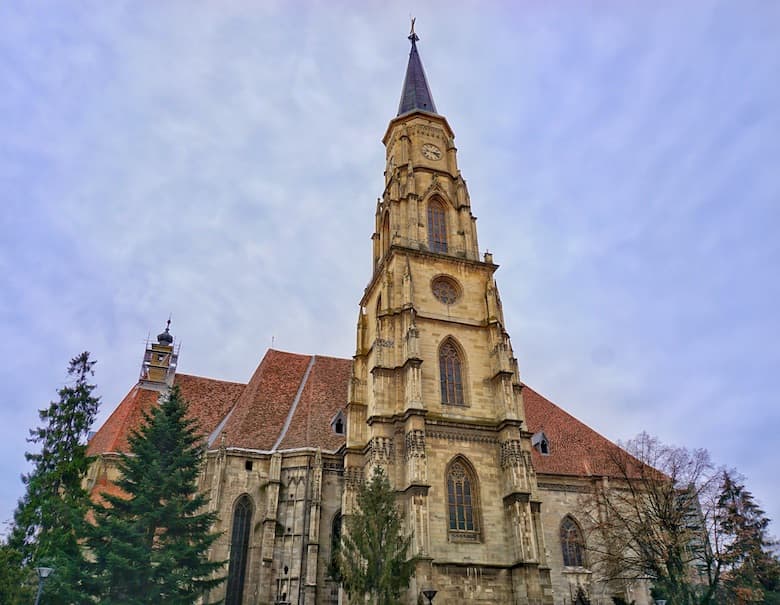 Matthias Corvinus House
Since we've taken part at the coronation of the Hungarian King (time-travel is such a treat), why not also see where he was born? Yes, Matthias Corvinus was born in Cluj in this inconspicuous city-style house. The Gothic-style building was finished on the 23rd of February 1443, one year before St. Michael's Church – the place of Matthias Corvinus' coronation – was erected. It is in this house that Corvinus developed his vast appetite for knowledge and where he laid the path towards becoming the King of Hungary and Croatia.
Throughout the years, the house morphed into different architectural styles and served different functions: it was a hospital, a college and also home for the ethnographic collections of the Transylvanian Carpathian Society. Today, it hosts the library of the Art and Design University of Cluj.
Cetatuia Park
Imagine standing on the Cetățuia Hill back in 1735, the year in which this Austrian Citadel that overlooks the entire city, was completed. What could you have seen from this vantage point? Could you have grasped far into the distance all the historical events that would come to unfold? Well, probably not. But you would have definitely seen the Somes river, the proud tower of St. Michael's Church and that of the Franciscan Temple.
Cetățuia (which means The Citadel) is a great place to wander around and enjoy nature, but also to catch breathtaking panoramas of the city. Even the small climb to the top of the Cetățuia Hill (405 m) is highly enjoyable. Linger a bit more on the hill to catch the sunset and you'll discover Cluj in a completely different light — literally.
The National Opera
Did you ever lose track of time so badly that 200 years passed you by? In Cluj it's possible to blink your eyes and — "boom!" — find yourself in another time completely. For example if just a few hours ago you were welcoming a future king into the world, now you can enjoy a concert at the first ever National Opera in Romania.
Imagine… It's a majestic Thursday evening in May, 1920 and the main hall of the recently opened National Opera of Cluj is reverberating with crescendos of its first representation — the symphonic concert led by Czech conductor Oskar Nebdal. The audience is sipping the experience with indulgence, taking in every note and lingering on its subtleties. Once over, the symphony is replaced by an uninterrupted waves of applause.
This was just a taste of the musical greatness that was to come. The official opening show of the Opera followed, on the 25th of May 1920. Under the conductor Alfred Novak, the famous Aida by Giuseppe Verdi was brought to life. From then to this day, countless operas, symphonies and events have continued to keep the Opera and its audience's hearts alive.
Ethnographic Park Romulus Vuia
Let's time-travel to 1929, the year when the first open-air museum of Romania was inaugurated. Once there, we'll time-travel (again!) to the 18th century. Yes, all this time-travel can be a bit of a mind-boggler, we know. But let us demystify things for you.
The Ethnographic Park Romulus Vuia is the first-of-its-kind in the country and an homage brought to the idyllic Romanian countryside life of the 17th and 18th century. A walk through the open-air museum will get you up close to traditional Romanian houses, farmsteads, ethno-botanic sectors and different workshops that illustrate techniques of wood, iron and wool processing. You'll get to understand the Romanians' gist for life, the thirst for a simple, joyful, but hard-working existence dedicated to the love of the earth underneath their feet. A moving, inspiring, deeply humbling experience, only in Cluj.
The land of festivals
With the fast woosh of centuries passing us by, we'll get back to present day Cluj and settle into its youngish, funkish, fun vibe. In Romania, Cluj has gained a reputation as the city with the best music and film festivals.
In June, the Transilvania International Film Festival (TIFF) gathers the best European films and a hip movie-lovers' community around a plethora of cultural events that make Cluj zum-zum with life.
In July, all the young (and young at heart) people move to Banffy Castle to enjoy the electronic and alternative festival life at Electric Castle. Sure, the line-up is what gathers music lovers here, with names such as Florence and the Machine, Foals and The Neighborhood, but it's the atmosphere that really gets them going. Electric Castle is packed with workshops, activities and happenings that keep the spirits up throughout the day, until the evenings booms in with electrifying beats.
August is a time for unravelling the magical powers of house music at Untold. Drawing inspiration from the mystical aura of Transylvania Untold puts its stories and legends on music and makes everybody dance to its rhythms until early morning and beyond. You may read more about the best time to visit Romania and its festivals here.
Now, you must certainly be hungry, so here's where to eat in Cluj
Central Market
Timeless, both traditional and grounded in the present day, the central market in Cluj offers a plethora of fresh and locally sourced products: vegetables, fruits, traditional cheeses, meaty bites and much more deliciousness in different forms and shapes. Plus, the authentic atmosphere and no-fuss interactions will help you better understand the traditional Romanian farmer. To enjoy the best experience, be an early-bird. You won't regret grabbing a quick bite before your time-travel adventures in Cluj.
Healthylicious
The name gives it all away, really. Healthy stuff, with deliciousness as the main ingredient. Stop here for a nutritious breakfast and indulge your buds with a generous smoothie bowl, or make it a pit-stop for a midday snack in between your time-travels in Cluj. Maybe even try it for a filling, but light dinner and have a go at one of their power bowls. We're drooling as we're writing and we don't even feel guilty about craving a second lunch — after all, the dishes are natural with no mambo-jumbo-added-stuff.
Klausen Burger
The beers, the view, the food. Make a detour to Klausen Burger for this trio, not necessarily in this order. We'd say it's the perfect lunch spot. Yeap, pretty much. What better way to recharge than with a mouth-watering burger, washed down by a refreshing craft beer, while enjoying Cluj's skyline? No wonder it's one of the locals' favourite restaurants and beer houses.
Marty Restaurants
Romanians are widely known for their hospitality and for offering large amounts of food as a token of their love and appreciation. At Marty Restaurants' you'll taste the love, looove, looove all through the drool-worthy menu. And since Romanians will do everything to make you feel at home, when to go? Whenever hunger strikes. Just follow your gut.
Time to set a future meeting in Cluj
Now that we've returned from our time-travel and know all the best things to do, see and eat in Cluj, it's time to press pause for a bit and just enjoy the present moment. As for you, well, you should be booking your tickets to Cluj. Meet us there. You choose the century and we make it all possible.
by Ilona Iftode, a hungry wanderer