How to experience the best of Romania in 10 days
Once upon a time, when wolves hugged lambs and kissed them, when bears measured their strength by the length of their tails and when fleas wore 99 iron shoes at just one leg, there was a land of stories, myths and legends beyond imagination. That land still exists today and you're about to discover it on a 10-day itinerary to Romania with you as the hero!
A 10-day itinerary to Romania
(Click on each day to see the details or simply scroll down)
*Driving times don't include stops.
Day 1 –  Timeless Architecture and Well-aged Wines
Bucharest – Dealu Mare – Chitorani (2h30 drive)
Romanians (heroes especially) never set off on a long journey before feasting well and packing some hearty bites for the road. How could we disobey this unwritten rule? So, your Romanian story starts by heading to Dealu Mare, Romania's most famous winery district where flavourful wine and great gastronomy awaits.
On your way there, you'll stop by at the Bellu Manor Museum, located in Urlati, just 80km away from Bucharest. This exceptional example of old Romanian architecture, built in the 19th century, tells the story of wealthy countryside Romanians in that period. The Museum hosts ethnographic objects, rare luxury books, paintings and furniture that will help you piece together a story of two centuries ago.
Once you figure out what Alexandru Bellu tries to whisper from across centuries, it will finally be wine time! The rolling vineyard hills of Dealu Mare, sitting comfortably on the 45th parallel, produce grape varieties that rival those of Bordeaux and Tuscany. Before, however, you sip on whites, roses or reds, you'll get to taste the idyllic hills that make Romania a land of myth and legends.
Tens and tens of kilometres of vineyards stretch as far as your eyes can see, making this region deemed of the "wine region" appellative. Even the ancient Dacian people recognized these hills' glory and a drop of their virtuosity can still be tasted in today's wines, which are awarded far and wide across the world. But enough talking, let's get to the tasting. You'll delight yourself with the best Romanian wines and taste the crowned local varieties. Of course, the food bites will harmoniously balance the flavours between the two estates you'll visit, with a food-stop at Ferma Dacilor (the Dacians' Farm).
With full bellies and tons of stories, you'll call it a wine-day and, after you've tasted the last variety, you''ll carry on to your abode for the night, Casa Timis. Here, another story awaits, perfect for bedtime. Designed in the Neo-Romanian architectural style, this house is the former "Domnita Ralu" Manor. Who is Domnita Ralu? We'll tell you just this for now: she established the first Theatre in Bucharest. The rest of the story, when you arrive.
Day 2 – Castles and Fangs
Chitorani – Sinaia – Bran – Brasov (3h drive)
Rise and shine, it's time to write the second chapter of your Romanian story. On this particular day, you'll meet a fanged-arch-nemesis, so make sure you make the most of the lovely breakfast you'll have, tossing any calories-count aside. Luckily, Romanian food is hearty and will give you enough energy to face off whatever might come your way, fangs or no fangs.
First off on your list is Sinaia, one of the most beloved Romanian mountain-side resorts, home to proud mountains, spectacular hikes and the Peles Castle, which you'll visit. Built at the desire of Romania's first king, Carol I, the castle thrones above the pinewood forest, at the foothills of Bucegi. Due to its Neo-Renaissance style, the castle looks like it was taken straight out of a fairytale but, at its time, was a modern wonder with 160 rooms, a 4,000-piece weapons collection room and a luxurious movie theatre with frescos by Gustav Klimt and Franz von Matsch.
In a castle-state-of-mind, you'll continue to Bran Castle. The only resemblance between the two is, of course, the name "castle". Other than that, Bran Castle stands out as a teutonic fortress that is most famously associated with Count Dracula. As you'll visit Bran and learn about its official history, the fanged count will be lurking in the shadows, whispering his story. In the mystic atmosphere of the forest, as the fog lifts higher to cloud what's real and what's not, you might find yourself gasping for air.
As the hero of your story, you'll manage to defeat the Count and you'll escape to Brasov, the mountain city infused with Gothic, Medieval, Baroque, Soviet and Hollywood vibes. Hard to imagine this mix? Romanians have quite the imagination and you'll soon get to understand them as we stroll across Brasov and end the day with a delightful dinner in a local restaurant.
Day 3 – A Feast of Sounds, Sights and Tastes
Brasov – Fagaras – Balea Lake – Veseud (3h30 drive)
On the third day, your Romanian story will go further with a visit at the Black Church in Brasov. After breakfast, of course. We told you Romanians take their hospitality to heart and food is always a serious affair. So, after you'll take care of "business", you'll visit the 500 years old Gothic Church in Brasov's city centre, called so because of the mighty fire it survived. Today, it's the largest Gothic church in South-Eastern Europe and has the most impressive functional organ with 3993 pipes and 76 registers. Yes, you might be able to hear it even from where you are now.
With your ears still echoing from the organ's sumptuous notes, you'll depart to Fagaras, a small, charming, mountain city. Here, you'll unravel the story of fresh Romanian produce by delighting your taste buds with a great "farm to table" lunch. Romanians' hospitality will yet again be put to a fire test, right in the kitchen, the place where they turn humble ingredients into legendary dishes, simple, yet utterly delicious.
And, since taste is a matter for all senses, you'll then depart to Balea Lake. On the road, you'll feast your eyes with the most scenic part of Romania's most famous road: Transfagarasan. Praised by three of the world's most famous motor-heads as "the world's best road" for top gears, Transfagarasan feels just as great even if you're not the one doing the driving. Its twists, turns, upheals and breathtaking views will even have you thanking that you're not doing the driving and admiring instead.
After such a full day (with food, yes, but still, full) even the most courageous hero needs to reboot and recharge. We'll make yourself at home in Veseud, a charming abode that's Romanian to the core. A homemade dinner will crown a delicious day!
Day 4 – Taking it Slow in Prince Charles' Favourite Saxon Villages
Veseud – Biertan – Alma Vii – Richis – Veseud (2h drive)
Slowing down turns a trip into a journey. And this Romanian itinerary it's not about checking out things on a list, but about full-enjoyment. That's why you'll dedicate the 4th day of our itinerary to slow living in authentic Saxon villages around Sibiu.
You'll have a slow morning in Veseud, where you can enjoy a locally sourced breakfast seasoned with fruits you, yourself, may pick. Veseud is famous for its apples and there's no better way to taste them than right from the orchards.
Leaving Veseud, you'll unhurriedly make your way to Biertan, a legendary fortified church that completely disregards the passing on time. Once you feel you've got the gist of it, you'll march forward to Richis, a Saxon Village that has stolen the heart of many travellers through its genuine and delicious wines. Take a sip or two, but save yourself for later because food will be yet again, in your itinerary. By this point you might come to think Romanians are a bit obsessed with it and you'd be damn right. Once you taste our local dishes, you'll fully side with them.
Thinking about food, you'll slowly make your way to Alma Vii, a place that seems to belong to a few centuries ago. Here, life revolves around the village's fortified church and not around the clock. Even Prince Charles has been irrevocably swept away by Alma Vii's charm. You'll feel the calmness in the rhythm with which life unfolds and you'll hear it when people talk. Their patience knits rich stories about times that were and times that are and appear to never change. In Alma Vii, if you take your time, you can learn a few things about yourself by listening to others. After a picnic and a rustic cart ride, you'll be able to pace yourself among the traditional colourful houses to observe and understand the local way of life.
As dusk comes and new colours shed new lights on the same old villages, you'll prepare to call it a day. You'll return to Veseud, where your welcoming host will definitely have a delicious end-of-the day prepared in the form of traditional dishes.
Day 5 – Medieval Fortress, Cheese and Urban Buzz
Veseud – Sighisoara – Cund – Cluj-Napoca (4h drive)
Utterly relaxed from a day before, you'll pick up the pace of your story to give it some Romanian buzz. Cheese included. But first, breakfast at our accommodation in Veseud.
After we wave goodbye to the hosts which, according to Romanian hospitality, won't let you leave without making sure you've got everything you need for the road, you'll head to the medieval town of Sighisoara. The alleged birthplace of Vlad Tepes, Sighisoara is today a Unesco-protected town. Behind its fortified walls, you'll discover narrow cobblestone streets filled with museums, merchant houses, chic cafes, souvenir shops and local businesses. "Wander and wonder" is what this medieval town will add to your Romanian story.
Next up, a well-deserved cheese and wine tasting plus a visit at the local family run manufacturing in Cund, a small town renowned for its cheesiness. Here, you'll learn how local cheese is made and you'll never want to leave. Luckily, you'll have enough time to taste and re-taste before departing to Cluj.
Ah, Cluj! This city will make you forget about cheese, at least for a while. History, architecture, hip cafes, trendy events and absolutely lovable people await. As the land of music festivals, Cluj has made it among the most vivid cities in Romania and its effervescence is undeniable. After a short walking tour, you'll dine at one of its numerous upcoming restaurants and you'll spend the night here, no matter how late you decide to go to sleep. Cluj's night buzz can be magical.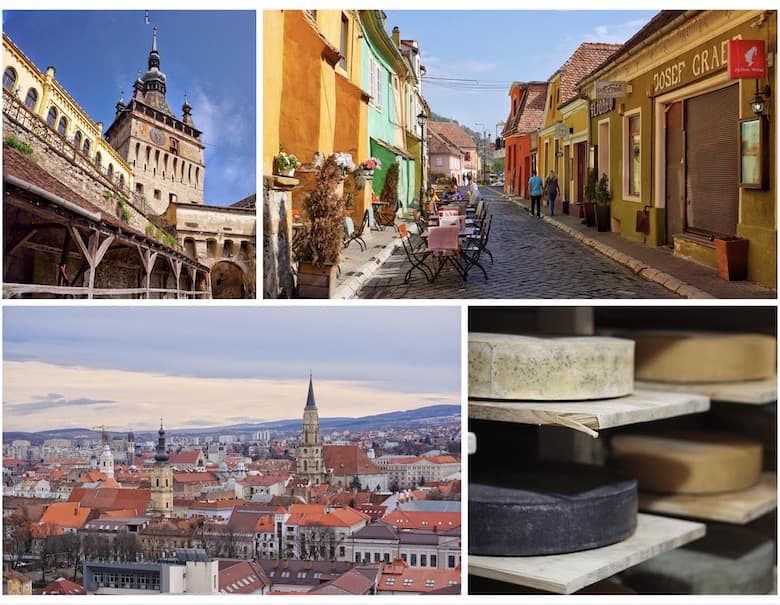 Day 6 – Wooden Churches and Hay Stacks
Cluj-Napoca – Surdesti – Budesti – Breb – Vadu Izei (3h30)
Waking up in Cluj feels heroic, indeed, as the morning cracks open new cafes where sleepy Romanians look for their beloved black magic liquid. You'll fight your way out of sleep's land and grab a trendy breakfast (or will it be brunch?) to have another taste of modern Romania. Then, off to Maramures for an epic ride into a world frozen in time.
Located in northern Romania, Maramures lives, breathes and speaks folklore. Unspoiled by what should be, it remains loyal to a time that was, transporting travellers in a horse-carried time machine. In Maramures, villages still keep their undeniable identity, each unique, but binded by the same credos. Your story in Maramures will begin in Surdesti, where you'll find yourself bewildered by the simple beauty of the Holy Archangels wooden church, a UNESCO Heritage Site. The church's steeple, reaching to the heavens above, perches divinely above the village and guides the path of locals, who are faithful to their core.
After lunch at Hanul lui Cobala, a traditional Romanian inn, you'll carry on to the rolling hills of the village of Budesti. Here, the legend of Pintea the Brave lives on. In the collective memory, the courageous outlaw still takes from the rich and gives to the poor. His treasure is well hidden in a cave which, lore has it, still opens from time to time. If you want, you'll try your luck at seeing it open, but first you'll stop by the church in Budesti, for good luck. Another UNESCO Heritage site, the St. Nicholas wooden church holds the shirt of Pintea the Brave and countless stories.
Inspired by the brave deeds of Pintea, you'll continue to Breb, one of the best preserved traditional villages in Romania. Its picturesque scenery delights through simplicity and the straightforwardness and grit of its people feels refreshing. You'll even feel the urge to throw away your shoes and run, alike Romanian kids, through open fields of hay sacks.
Since you'll most definitely be exhausted after such a full day, you'll stop in Vadu Izei. You'll enjoy two nights here, in a traditional Maramures house. In the company of a local family and well taken care of by the lady of the house, you'll get a real slice of Romanian countryside life, in its most idyllic form. Unbuckle your belt, because food will be plentiful, local and crazy delicious.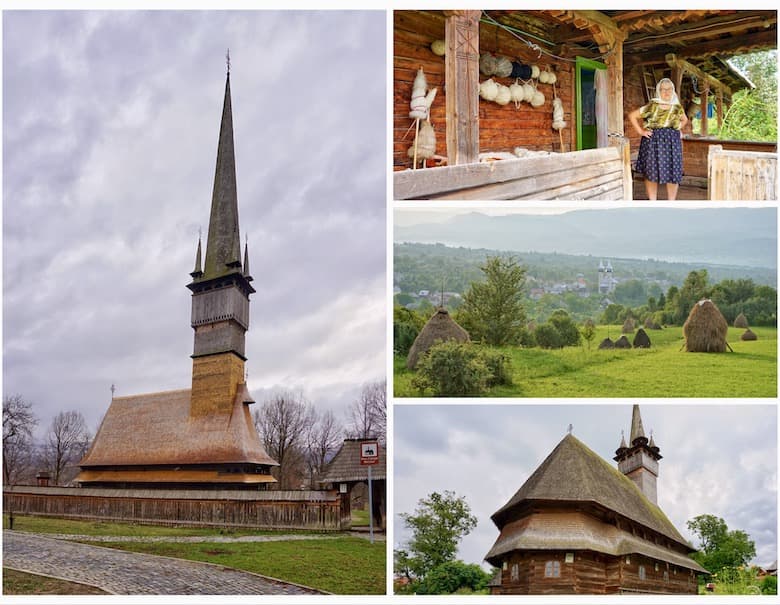 Day 7 – Death is Only a Passage
Vadu Izei – Sapanta – Sighetu Marmatiei – Valea Stejarului – Vadu Izei (1h drive)
Romanian fairy tales and fables are filled with a famous saying: "c-un ochi rade si cu altul plange", which translates to "cries with one eye and laughs with the other".  This duality is embedded deep into our history and spirit and it's what you'll come face to face on your 7th day in Romania.
You'll start the day on a sweet note, with a delicious breakfast, as usual. Then, off to a bitter-sweet experience at the renown Merry Cemetery in Sapanta. The cemetery, unique in the world, exposes rows and rows of colourful wooden crosses embroidered with traditional motifs. Each cross bears a few lyrics about the life of the beloved deceased. Written with wit, spirit and humor, the lyrics harmoniously mix the essence of Romanians: people seriously tested by faith, but who've come through the other end by laughing in front of hardships. If you never thought it was possible to laugh at death, reading the descriptions at the Merry Cemetery will have you second guess your perspective. With a smile.
As with any story, your journey too will have twists and turns. From the ludic perspective at the Merry Cemetery, you'll shift to the reality of before '89 with a stop in Sighetu Marmatiei at the Memorial of the Victims of Communism and of the Resistance. Romania's communist history will surface through the stories of people who opposed the oppression and stood up for the moral good, even if they fell in the battle. An emotional charged visit for any local, this visit will instil in you a better sense of understanding Romanian culture. With your hunger for knowledge satisfied, you'll please your food cravings as well with a deserving lunch at Casa Iurca, a culinary landmark of Sighet.
You'll ease into the rest of the day with a slow walk in Valea Stejarului, a small picturesque village close to Vadu Izei. After a visit at the village's old church, you'll end your 7th day story in the most Romanian way possible: enjoying the sunset on a hill overlooking the valley, while sipping on some strong and flavourful horinca and wolfing down some local appetisers. Cut!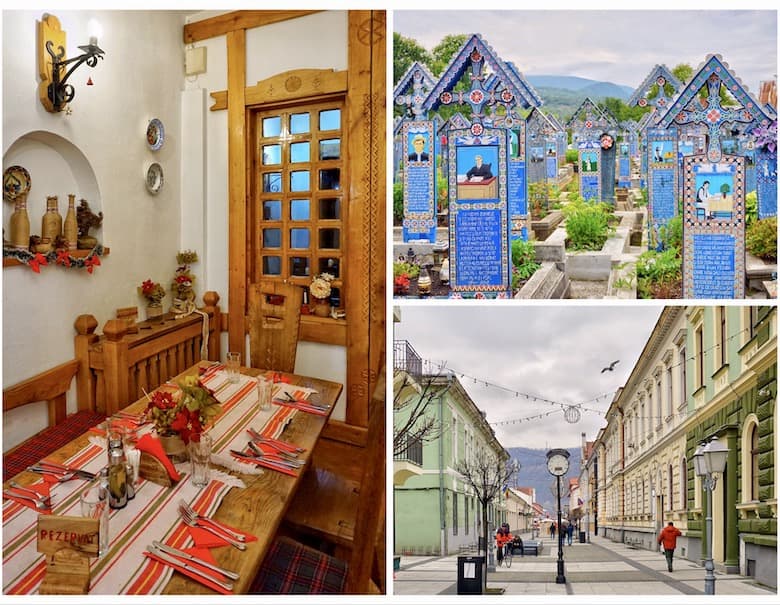 Day 8 – From Maramures to Bucovina
Vadu Izei – Barsana – Ieud – Sacel – Ciocanesti – Moldovita – Sucevita (5h drive)
On your 8th day of this Romanian itinerary, you'll try the countryside way of waking up: early, at the crack of dawn. Once your sleep haze lifts off, you'll thank us for the brutal hour, because "oh, the beauty" you'll see. So, with eyelids still heavy, you'll set off to Barsana, a village dating back to the 14th century with a charming wooden church.
Next, more traditional Maramures churches and, in fact, one among the most impressive ones: Ieud's Church of the Nativity of the Mother of God, a UNESCO Heritage Site. The Ieud village itself is a living open-air museum that will have you wow-ing incessantly. A "hello" here, a "hello" there, as villagers will warmly greet you along the way, not keeping their curiosity a secret. The church will impress through its high double lap roof and belfries. Hear the bells ring and enjoy the sights.
If you'll grasp far in the distance, you might spot Moara lui Mecles, the oldest water mill still in use on the Iza river. However, don't squint too hard, because we'll soon get much closer as we travel to Sacel. At the mill, if you're lucky, you'll be able to talk to the old owner himself, a third-generation miller. Danila Mecles will gregariously tell the story of his grandfather, who built the mill in 1907. Look carefully in his wrinkled eyes. A hint of sadness tells the unspoken story of his grief of being the last one to carry out the tradition.
You'll say goodbye to Danila Mecles and head to Ciocanesti, where you'll experience a complete change of atmosphere. This fairytale village, with houses embroidered with Romanian motifs, is as colourful as its people, who will gladly tell you how this decorating tradition all began. Once you find out the story, you'll be good to hit the road again.
Next on to Moldovita Monastery, a painted church that is a UNESCO Heritage Site. Although one could spend countless hours admiring its exterior walls full of frescos, you'll have to leave (sooner or later) to reach Sucevita. Here, ethnography and folklore, calmly nestle among peaks hiding a beauty that doesn't boast, but impresses. In this serene natural setting you'll be calling it a day in a fairytale traditional house. You'll dig into a delicious meal and say goodnight to your great host. Another day awaits.
Day 9 – Faithful to the Craft
Sucevita – Marginea – Putna – Sucevita (1h30 drive)
Snooze the rooster's wake up call and enjoy a few more hours of sleep. Your 9th day will start with a warm invitation to linger in bed and make the most out of Romanians' hospitality. Whenever you'll be ready to push the covers aside, your gracious host will be waiting with the table all set: behold, a mouth watering locally sourced breakfast ready for you to devour!
After some hearty bites (or mouthfuls) plus a few more locally flavoured stories served by our host, you'll depart to visit Sucevita Monastery, a religious architectural wonder of Moldova. Combining Byzantine and Gothic elements, the monastery is a prime example of the classical Northern Moldavian style. You'll be able to thoroughly study the interior and exterior mural paintings and recollect in this serene place of meditation before you get moving again. If you want, you can follow the Romanian tradition of lighting up candles for the souls of the living and the dead – always separate candles – to bless them, no matter where they are.
Our next stop will be in Marginea, an area famous for its talented crafters and black pottery. Once upon a time, in the 16th century, more than 60 families of potters lived in Marginea. From ancestor to ancestor, the craft of spinning the wheel and burning the clay vessels in the furnace has been kept alive. Today, only around 5 families of potters still know the secrets of the black clay. Few, but extremely talented and faithful to their roots. You'll get the unique chance of learning a few things about this traditional craft from the Magopat family, famous for their craftsmanship. If you feel brave enough, you'll even get the chance to try your skill at moulding the clay and take your creation back home as a souvenir.
Phew, since pottery is hard work, you'll most definitely be starving. But after a good traditional Romanian lunch, you'll be ready to continue your story. The next chapter will take you to Putna, a legendary Moldavian monastery second to none. Built by Moldavia's most beloved ruler, Stephen the Great, this monastery is also his resting place and a serene one by that matter. Find out its history, enjoy its silence and simply let your mind settle down.
Next, you'll follow the red thread of Stephen's the Great story by moving on to the cave of Daniel the Hermit, the Voivode's personal advisor and spiritual advisor. This cave has been Daniel's home for more than 14 years, a place of solitude, solace and faithful reflection. Romanians, people "with the fear of God" as a traditional saying goes, consider it a holy place of pilgrimage.
From this humble abode sheltered only by nature's will, you'll make your way to your resting place for the night. By now, you'll already feel like home here and dinner will be intimate and cosy. With your departure so close, you'll want to stay a little more and push the night hours into the day as chatter about this and that fills the guesthouse with ghosts of voivodes, hermits and Romanian myths.
Day 10 – A Blue Moldavian Goodbye
Sucevita – Voronet – Suceava (2h drive)
On your 10th day in Romania, you'll wake up victoriously, having made it to the end of your journey. Let in the fresh countryside air, hear the herds go "baaa" (or in Romanian translation "beheee") and even wave at the rooster who mercilessly woke you up without the possibility of snoozing. With lessons learned and countless people whom you'll come to see as more than guides, you'll emerge, just like the legendary Romanian characters with a new understanding of the world – at least of our world.
It will all be debated over breakfast and on your way to Suceava, from where you'll take your flight. But before you get there, a few last adventures await and a very special colour unique in the world. The palette of your journey will spark up with a very special blue at Voronet Monastery in Gura Humorului. The blue from the church's fresco is made with a legendary pigment, part physics, part mystic.
Once you'll be able to take your eyes off the wondrous blue, you'll depart to Bucovina Village Museum. Here, the concentrated essence of the Romanian village, with its architecture, its crafts, occupations and beliefs reigns free. Folk architectural objects, rituals and even passage rites are brought to life here. There's no better place than this bubbling environment of Romanian credos, both material and immaterial, to wrap up your story.
But there's one final chapter to experience and the end seems to have a sweet Moldavian accent. You'll stop at the Citadel of Suceava, the capital of the early Moldavian State, to encounter jolly people and rich history. The walls of the citadel will take you back, but do keep an eye on the clock not to miss your flight. Although, by this time, you might wish you would.