Why Romania Is A Safe Travel Destination In The Time Of COVID-19
Welcome to 2020s, where Zoom meetings have replaced weekend getaways, and the only upside is that pants are not mandatory! Don't mind our clothless humour, we're a) Romanians – and we deal with challenging situations by laughing in their face and b) eager to actually pack a pair of pants and go on a remote adventure across Romania.
For now, though, we want to unpack some reasons why you should join us, mask on! Fact is that we've been pondering upon how much immunity travel will gain after curing itself from coronavirus (COVID-19). Although the comeback will slow, we can certainly tell that isolated locations will be the new "let's go to Paris!" and small-scale local adventures will follow an uphill trend (in Romania, even a wine hill trend). In an attempt to travel safer, not everywhere, group travel will give way to private travel and bespoke experiences will finally be cherished as they should.
As people will try to avoid crowded capitals and ultra-visited destinations, a new sustainable way of travel will emerge, one that will favour local flavours and humble, yet authentic experiences. Here's where Romania is a master second to none. With faraway villages that aren't even slightly connected to the bustling cities, secluded natural wonders, remote monasteries that gather only the very faithful and local activities that seem to be inspired from a Monet painting, the country that has never been on your vacation list will suddenly come through as a mention-worthy option.
Now you might scuff in disbelief, but if you have no place to go, do sit down and follow our reasoning. By the end of this article, you'll schedule a COVID-19 test and book a flight to Romania. Don't worry, we'll be waiting to guide you on a private tour, social distancing style.
Mainstream tourist attractions make room for offbeat best-kept secrets
Dracula's a nice guy (we know, kind of a shocker!), but offbeat adventures can definitely provide more chills (the right kind). By stepping away from the biggest tourist attractions in Romania – Palace of Parliament included – you'll not only step away from the risk posed by COVID-19, but also from the danger of misunderstanding this country. We'll help you discover it at its rawest and most genuine, by connecting you to the remote places that maintain its soul unaltered.
Communities that are out of touch, but in tune with nature
If we stray away from the main road and intentionally lose ourselves in Banat, you'll meet a local community that thrives through the pandemic by growing and producing everything it needs to sustain itself. Here, you'll discover the wonders of older-than-time-itself communal watermills and taste the product of their grinding: real, hearty polenta made of old corn, untouched by genetic modifications.
>> Read more about slow living in Romania here <<
Dipping a healthy slice of corn porridge in milk or towering it with tons of local cheese will get you all the way to heaven and back in a matter of bites. As you get down to earth, you'll hear how time is slowly ground by the watermill and transformed into memories passed from generation to generation. Let yourself dream of a time long gone and put your head to rest in a traditional farmhouse, where you'll definitely be received with open arms, but no shaking hands.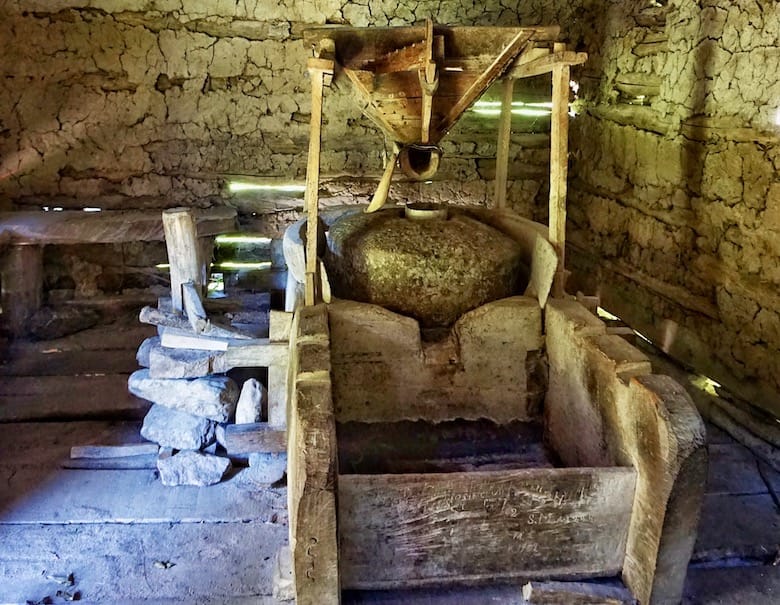 Villages that are off the grid, but in time's graces
Some of Romania's most picturesque villages are so hard to reach that coronavirus won't even bother with them. We're even willing to bet a flight ticket on that. And we're willing to guide you there, through bucolic scenery that's worth the struggle of climbing some pretty shady wooden stairs.
Out of sight, they have been setting the standards of by-the-book social isolation without even realising it. Here, distance is not an imposed restriction, but a celebration of people's communion with nature.
In each of these villages, a handful of golden-agers remain. They seem to completely disregard the passing of time with nonchalant teeth-free smiles and eyes that pierce into forever. With the rolling of their tongues, stories ebb and flow, merging tomorrow with yesterday and bringing forward quite a surprising truth: that whatever comes might have happened before.
In the middle of this "nowhere", you might find yourself. Without the noise that usually clutters your attention, you'll have time to listen and dig deep. Of course, the delicious local brandy might also have something to do with this regained sense of identity. No matter the cause, enjoy it and then get back down to earth to enjoy the architectural heritage, the stupendous ethnological treasures and, of course, the people.
Churches that see few visitors, but are full of spirit
In troublesome times, Romanians are known for two things (that they'll admit to): singing their hearts out and going to church. The country is a tapestry of spiritual dwellings, from humble wooden chapels to fortified churches, secluded monasteries and even sumptuous cathedrals that stand testimony to the profoundly orthodox nature of our people. In Maramureș alone there are more than 100 wooden churches, eight of them Unesco World Heritage Sites.
If you set foot in any, you'll understand a bit of who we are. Sure, the devil might catch the tongue of Romanians at times, and they might even fall into liquorish temptations once in a blue moon. But the older they get, the more religious they become. Maybe we are not born saints, but we certainly aim to leave this world that way. That's something that even some of our priests will admit.
Even if you're not a believer, the incredible architecture of Romania's churches will make you at least contemplate the idea of timeless beauty and God. The frescos, the incense smell, the heavy, yet light release of the rising prayers echoed in baritonal tones will awaken a dormant sensation in your heart. Some might go as far as to call it faith, but it might be something as pure and simple as relief. Take it. It's a breath of solace that offers consolation during this troublesome pandemic.
Natural wonders that are hard to get to, but easy to fall in love with
If you're more inclined to slightly less-religious worship, the endless fairytale green corners of Romania will greet you with different prayers. In these corners of heaven, God walks barefoot and sleeps in a tent. We encourage you to do the same.
You won't need an alarm to wake you up, as the morning dawn will bathe you in light. However, if that doesn't do it, we're sure the cowbells jangle will stir up even your most hidden thoughts. Rise and shine, it's time to take on the hills and enjoy doing sweet nothing. Come night time, you'll need no other light than the dust of stars, seen in their billions over these few-remaining lands of unspoiled pastures and forests.
Among Romania's natural wonders, you'll get your best chance of becoming one with nature. Take it because no guru will be able to offer you a better deal. The hypnotic green fields are all the awakening your soul needs, and their fresh air is the best lung-filler to keep your energy ballooning for months on end.
You'll never want to leave. But who says you have to? After all, remote work is one of the few perks of the pandemic.
Small guest houses and private villas become the accommodation of choice
We reckon that the best way to escape the pandemic is by stepping back into a time in which it didn't exist. Time-travel and inappropriate COVID jokes aside, Romania does provide a gateway into the past and a myriad of guesthouses and private villas that offer intimacy, safety and a slice of authentic experiences.
These manors, mansions, and traditional houses have been restored to their former pastoral glory with all the care and tenderness their owners could muster. Now, the owners have become soulful hosts that greet their visitors as if they were family. And if you think you'll miss the all-inclusive treatment, it's because you haven't seen or tasted the hearty portions of crazy-delicious locally sourced food.
The guest houses themselves are jewels of incommensurable value, with steep shingled roofs, intricate wood carvings, traditional furniture and ceramic stoves. Outside, the time-abiding experience continues with tree-hanging colourful pots and pans, haystacks, orchards, wooden-wagons and pecking chickens. If you, for any reason, forgot what year it was, these places would throw you off even more.
As the pandemic will unwittingly change the face of travel, you'll find yourself drawn to accommodations that receive few visitors, but do so full-heartedly. And when you find yourself in that position, recall what you heard about Romania's small restored guest houses that clung to their rural heritage.
Locally sourced dishes get crowned as the healthier, sustainable and more delicious choice by gastro addicts
With the pandemic keeping us at bay from one another, the need to come together will grow even bigger. And food is one of the things that truly brings people closer, no matter how far. It's, in fact, one of the fastest and most delicious ways of learning about a culture.
While crowded restaurants and waiting lists will be a long-forgotten memory, small, intimate eateries with menus that change with the season will come to meet the cravings of travelling gastro addicts. Romania, with its rich agricultural heritage and heaps of home-grown sustainable cultures is ready to satiate even the hungriest of them.
In our country, all husbandries are zero food waste, as locals ingeniously transform leftovers into star dishes daily. For them, it's not a new trend, but a way of living. So stop and eat at any traditional house or even join the locals in cooking a humble, yet finger-licking dish. You won't need to know much about cooking, you'll just need to have the love for food in your…gut. A word of caution though: all Romanian local dishes are diet wreckers, but we guarantee you'll forget to count calories shortly after the first bite. Happiness tastes better than any number on the scale. Plus, you simply won't be able to say no to a Romanian host.
Positive-impact activities with the locals replace queueing at crowded city experiences
We don't want to jump to rushed conclusions, but we'll make an educated guess and say that you're used to certain kinds of travel activities. Well, the pandemic disagrees with any time spent in crowded piazzas, museums, amusement parks or with queueing of any kind.
So better grab your hayfork and come to Romania, because some secluded tiny scale activities await. And, as a thing of sustainable beauty, these past time activities can do the local communities a ton of good.
Haystacking, honey harvesting, mushroom and medicinal plant foraging, baking and cooking or fishing are just a few of the locally flavoured activities that are not promised but offered as a precious gift. Don't expect anything to be organised and let yourself go by accepting the adjusting nature of Romanian countryside locals. They know the way of the land, and they know that any task must be completed in nature's way or the hard way – meaning it's always kind of hard.
Silenced scenery and bountiful stories will accompany any activity. Tune in to their rhythm and the cadence of the legends told by the elderly. They bear knowledge from a time beyond memory.
Travel will live on post-pandemic
If we're to draw one good thing out of this pandemic, let it be a new-found (and kept) understanding of what it means to truly connect. Travel was always meant to broaden and empower those who venture on a journey, but also those who receive these wanderers with open hearts. So let us be more caring and let our footprints tread lightly on the grounds we visit. For these be kept and enjoyed even after we have ventured to other lands.
Now close your laptop and pack your bags. It's time to social distance yourself in a country far, far away. Book your private travel holiday to Romania and rediscover travel. post-covid. It might be better than you'd ever dreamt.
by Ilona Iftode, a traveller of ALL times (COVID included)